CASE STUDY:
NZOSL NELSON TANKS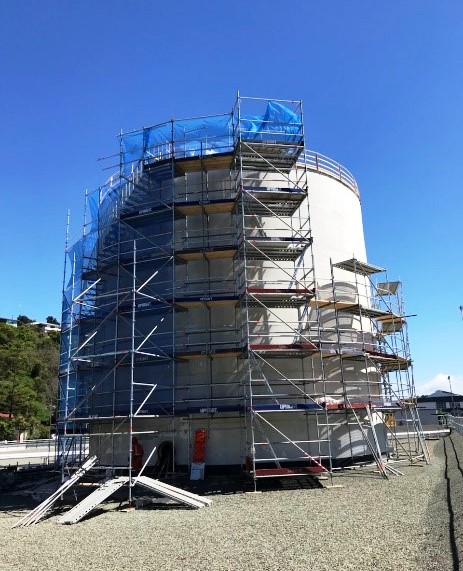 The Challenge:
Provide safe internal and external height access for maintenance work on NZ Oil tanks in a stringent compliance environment.
The Detail:
Safety and compliance requirements for the oil and gas sector are, understandably, more complex. Upright has worked in the sector for many years and has staff trained and practiced at working in high risk environments.
Design and planning was key to the install and maintenance of the scaffolds. Upright worked with scaffold supplier Layher, to design the project and to ensure that equipment reached the site at the right time.  A week out from install, key members of the Upright team attended a half-day HITRA briefing to cover off risks and controls associated with the site.
Once on-site, the Upright team maintained radio contact with the terminal manager. This was particularly important once inside the tank to install a large mobile scaffold, where the team made good use of their confined space and gas detection training.

WE CHECK OUT
SECTOR COMPLIANCE AT A GLANCE
Compliance and accreditation checks needn't be a hassle. Download  our Compliance Pre-Check form and view Upright's company and crew-level accreditation at a glance.