CASE STUDY:
TEMPORARY FACTORY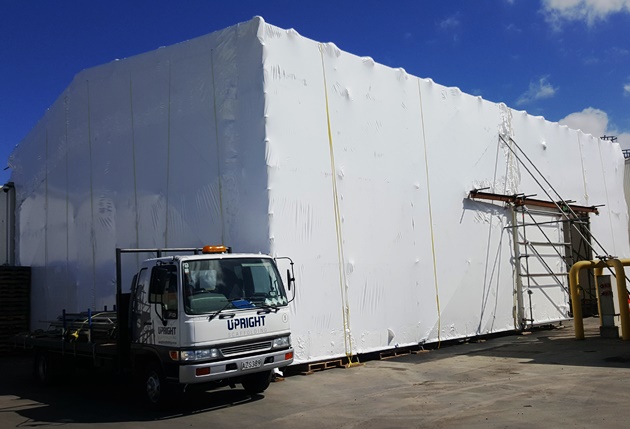 The Challenge:
Manage environmental loading on a 300m2 all-weather temporary structure.
The Detail:
When a major food production facility near Ashburton was looking for a way to temporarily extend their production line and warehouse, they came to Upright to explore a scaffold-based solution.
After a site visit and close consultation about project needs, Upright proposed to build a 16m x 19m scaffold (around 300m2 in floor space) with a space roof that would be fully encapsulated. With a green light to proceed, the team built the scaffold over three days. The structure was then encapsulated with plastic shrink-wrap in close adherence to our consulting engineer's specifications. With a structure the size of the temporary warehouse, managing environmental loading was a key challenge.
Client Project and Improvement Engineer had this to say, "We were impressed with the efficiency of the scaffolders and the finished result is just what we were looking for".
One interesting feature was the three metre-wide sliding door to allow forklift traffic in and out while maintaining a weather-tight structure. The scaffold could be in place for up to a year enabling production to continue at full-speed.