Why Upright Scaffolding choose Layher scaffolding products?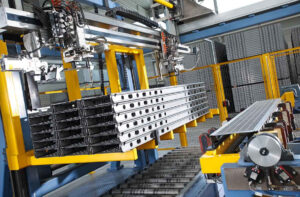 Upright Scaffolding is a company that has been in the scaffolding business since 1949. Many scaffolding products come and go, but one brand always rises to the top: Layher. Why do we choose to use Layher scaffold products?
Here are just a few reasons:
Productivity
One of the main reasons Upright Scaffolding choose Layher systems is productivity.
Increased productivity for us means being able to put up scaffolding faster and with fewer people. We can pass this benefit to our Upright customers and clients as a cost-effective solution for their scaffolding needs.
Weight saving
Layher makes a considerable effort to reduce the weight of its scaffolding systems. In the Layher's Allround Lightweight (steel) scaffolding system, weight savings can be greater than 40% compared to alternative systems in the market.
Saving weight has multiple benefits. The lighter the scaffolding, the easier and faster it is to erect and dismantle. Lighter scaffolding also reduces manual handling risks for our employees.
Less weight on a project also means that we can use smaller vehicles with lower emissions – another way Layher helps us reduce our carbon footprint, which is a significant factor in Upright Scaffoldings decision modelling and value system.
Reduced number of components
Through its commitment to R&D, Layher has reduced the number of components required to assemble scaffolding structures.
Examples include reductions in the number of decks, ledgers and braces.
Fewer components equal more simple structures resulting in faster erection and dismantling time.
Fewer components for our Upright clients means that scaffolding can be erected faster with fewer people.
In addition, because there are fewer components, there is a reduced risk of lost or damaged parts – which means that projects can stay on schedule.
Manufacturing tolerances 
Layher products are manufactured to very tight tolerances. Consequently, Layher product users do not suffer from delays associated with the poor fit of components – or defective components.
Layher takes great pride in manufacturing to extremely high-quality standards, central to the group's philosophy.
Pushing boundaries
Layher sets the standard for scaffolding innovation and excellence. In an increasingly quality and cost-conscious market, they drive to develop and advance scaffolding technology, ensuring they offer the most competitive product and service portfolio available today.
Layher brings international experience and technical expertise to bear on the unique challenges facing New Zealand building and construction professionals.
Culture of quality
At Layher, second best is not good enough. Layher (like Upright Scaffolding) believe in providing only the highest-quality scaffolding products and services possible. Layher's uncompromising commitment to excellent design, precision engineering, superior materials and state-of-the-art production processes has earned us an enviable reputation for quality and reliability.
Industry leaders
Layher sets the standard for scaffolding in New Zealand – literally. Their experts are frequently called upon to contribute to the constantly evolving Australian and New Zealand standards for scaffolding. It's a responsibility we take very seriously.
Upright are at the forefront of the industry with heavy involvement as Gold Accredited Members of Scaffolding, Access & Rigging, New Zealand, and other industry associations, including Site Safe and Smart Trade.
Upright Scaffolding is proud to use Layher products. We believe they are the premium choice for scaffolders.
It is important to note that some of the information in the article above has been taken from the Layher website.
The website is an excellent resource for anyone interested in learning about Layher scaffolding and its many applications.
The site is well organized, easy to navigate, and provides a wealth of helpful information. In addition, the team at Layher is always willing to answer any questions you might have.
For scaffolding erection or dismantling projects, case studies or general information, please explore our website or contact us today to learn more about Upright Scaffolding.